EL YUNQUE RAINFOREST & BIO BAY TOUR!
Experience two of the greatest natural attractions in Puerto Rico! We teamed up with Fine Line Excursions to bring you the best of the East Coast. For a start, explore El Yunque Rainforest. Next, discover bioluminescence at the Fajardo Bio Bay. Finally, SAVE BIG with this full-day package!
The adventure starts at El Yunque Rainforest. First, visit El Portal Center. Hike the trails and refresh at the waterfalls. Have dinner at a Puerto Rican restaurant. Next stop: the Fajardo Bio Bay! Bioluminescence is one of planet Earth's best-kept secrets. It consists of tiny organisms that make the water the glow at night. Yes, it's great to see!
This tour includes round trip transportation. Fine Line picks you up at your hotel in the morning and takes you back at night. In conclusion, our El Yunque and Bio Bay Tour is simply a great deal!
EL YUNQUE RAINFOREST
& BIO BAY TOUR Highlights
Enjoy Puerto Rico's most popular nature attractions in a single day.
Hike the trails of El Yunque Rainforest.
Visit El Portal Center.
Refresh at beautiful waterfalls.
Go on a kayaking tour at night.
Discover bioluminescence at the Fajardo Bio Bay.
Round trip transportation included!
QUICK INFO
Duration: 10 Hours
Age: 6 years +
Skill Level: Moderate (includes hiking)
Food: Light Snacks and Refreshments Included
Launch Site: Selected pickup point
Locations: El Yunque Rainforest and Fajardo Bio Bay
Open: Monday – Saturday
Activity: El Yunque National Forest Tours
Activity: Fajardo Bio Bay Tour
Transportation: Yes! Included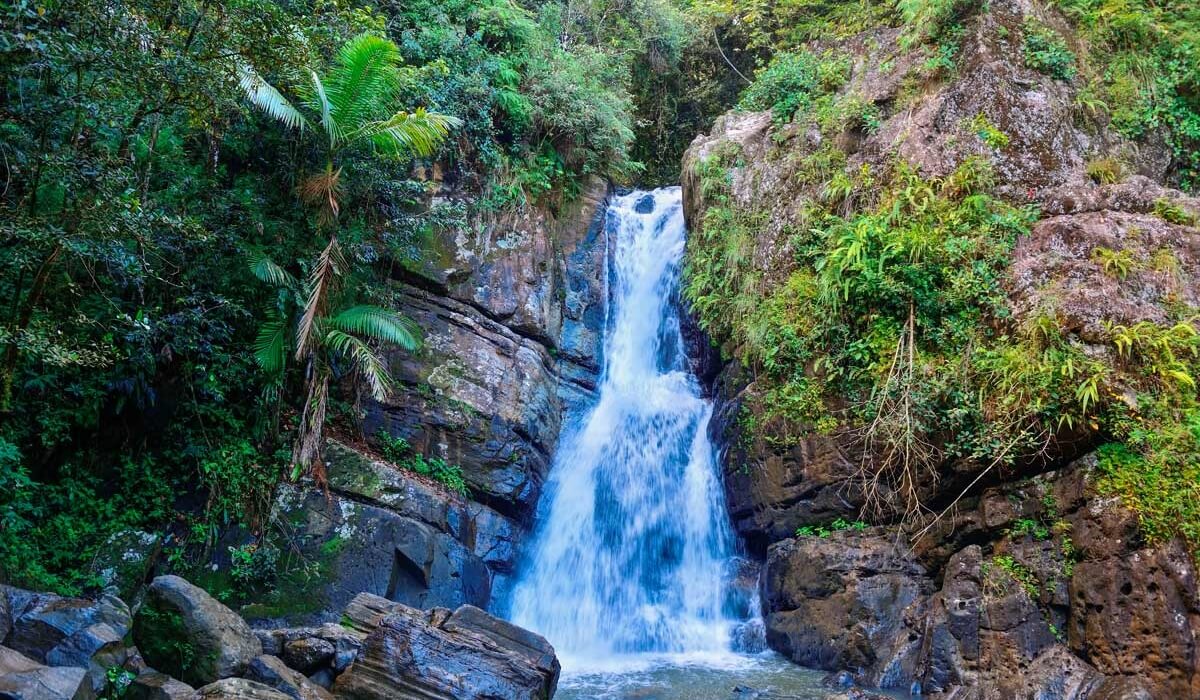 EL YUNQUE RAINFOREST & BIO BAY DETAILS
WHAT OUR GUESTS SAY
Claribel 19
Fort Lauderdale, Florida
There is always a reason to go back to Kayaking Puerto Rico!!! As I have done it for the pass years… Its an adventure whether you know how to kayak or not!! Knowledgeable staff from reservations to kayaking guides!!!! Recommended highly. Five stars!!!!!
Dana R
This company is awesome. They are friendly, fun, knowledgeable and have a few goofballs. They provide snacks after the trip and a picture.
KB_Anapollis
 Memories we will never forget, snorkeling with sea turtles, a great reef full of sea life, and the beautiful Flamenco Beach. Our whole family with kids 9-15 had an incredible time.