BIOLUMINESCENT BAY TOUR FAJARDO, PUERTO RICO
If you are in Puerto Rico, the Bioluminescent Bay Fajardo is definitely an adventure not to be missed! Kayaking at night time to experience the magic of bioluminescence is a luxury that you will rarely find elsewhere in the planet. So don't hesitate for a second and join us in our fully-guided kayaking adventure into the bioluminescent glowing waters of Laguna Grande. Here —at the heart of Las Cabezas de San Juan Nature Reserve— you will meet a wonderful marine microorganism that produces a natural light with every stroke of your paddle!
From sunset to mid evening, our famous 2-hour kayak tour will take you on a journey of fresh air, starry night skies, gorgeous tropical marine life, and swirls of lights and sparkles all around you! Led by our certified interpretive guides, our Bio Bay adventure is bound to create memories for a lifetime.
Highlights
Explore the mangrove channel of Las Cabezas de San Juan Reserve
Kayak at nightfall through the Bioluminescent Bay
Discover billions of sparkling microorganisms
Learn about the nature reserve's fragile ecology and the constellations
Enjoy with the best reputed eco guides in Puerto Rico!
$48

Per Person + Taxes & Fees

Maximum 2 persons per kayak
QUICK INFO
Duration: 2 Hours
Age: 6 years +
Skill Level: Easy (Beginners)
Food: Light Snacks and Refreshments Included
Location: Laguna Grande, Fajardo
Launch Site: Las Croabas, Fajardo
Open: Monday – Saturday
Rules: Swimming not allowed
Transportation: Yes! Pickup available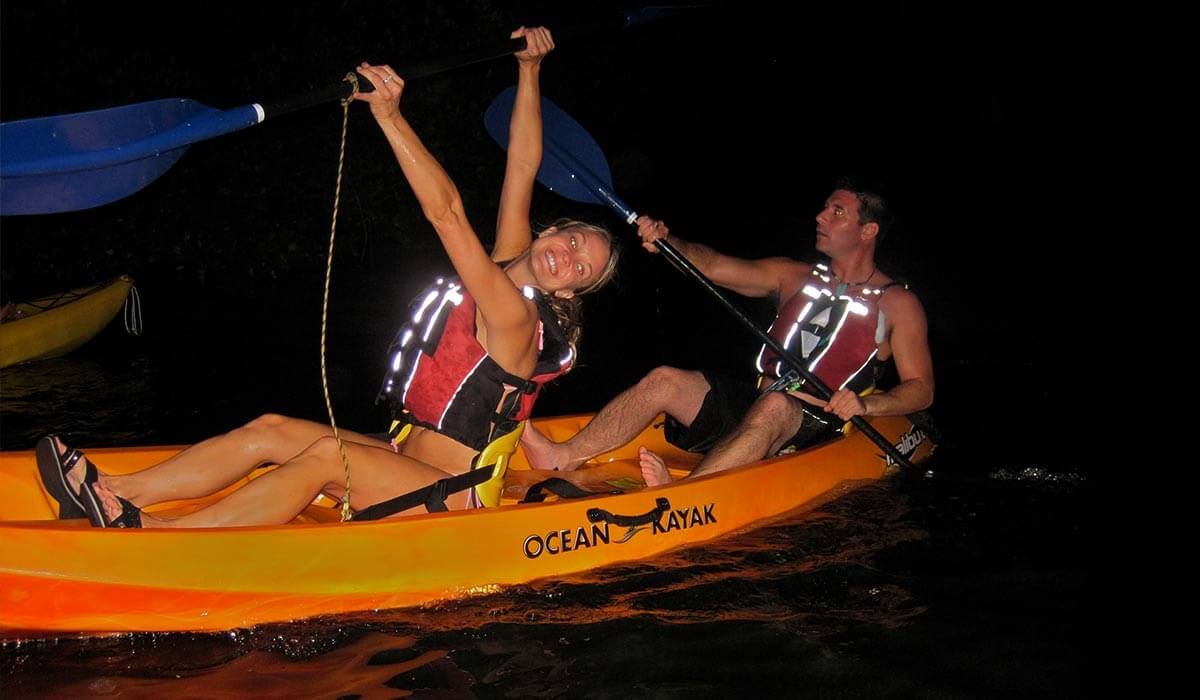 WHAT OUR GUESTS SAY
Claribel 19
Fort Lauderdale, Florida
There is always a reason to go back to Kayaking Puerto Rico!!! As I have done it for the pass years… Its an adventure whether you know how to kayak or not!! Knowledgeable staff from reservations to kayaking guides!!!! Recommended highly. Five stars!!!!!
Dana R
This company is awesome. They are friendly, fun, knowledgeable and have a few goofballs. They provide snacks after the trip and a picture.
KB_Anapollis
 Memories we will never forget, snorkeling with sea turtles, a great reef full of sea life, and the beautiful Flamenco Beach. Our whole family with kids 9-15 had an incredible time.